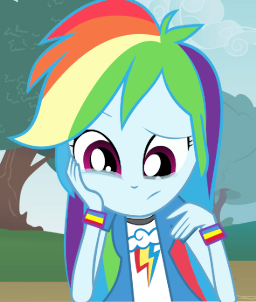 Source
About a year ago, Rainbow Dash, one of the greatest athletes to ever attend Canterlot High, confessed her love to you, and even asked you out. You didn't know how to respond. At the time, rejection seemed like the best way to go. After she confessed, you ignored her; afraid of her trying to attract you, and also afraid of accidentally saying something to break her heart even more.
Now, Rainbow Dash has come to you with a question that has been on her mind for months.
Proofread by AngelDCS
This story now has a live reading by Naviskypegasus.
Chapters (1)