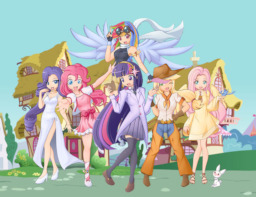 Welcome to Fillydelphia U, the college you've been attending for a year now. This is the account of the crazy things that began to happen to you as a sophomore. Complete with love triangles, crazy roommates, and much more! Want to know what that "much more" may be? Well then pop on in and take a look. This is Fillydelphia University. Enjoy your time here.
**************
Human for humanized ponies. They're humans with wings and the ability to use magic. Seeing as they're not really anthro with just that trait, I feel that the human tag was more appropriate.
Putting my own spin on my favorite niche of fics.
Constructive criticism encouraged and all that jazz. Enjoy!
Teen for language (At the current moment.)
Note: The cover image is the best version of the human ponies as I described. So...relevant.
Chapters (2)