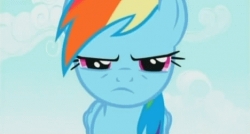 [2nd Person Perspective]
"Look out for number one."
That was the way of life back in Clopton. A city where survival was a daily battle.
Having made a few too many enemies, you move to Ponyville with only a bag of bits, the tools of your trade, and a couple jackets to cover the scars you've accumulated in the past. You don't trust anypony as far as you can throw them, but can you mesh well enough into the little country town to support yourself?
It'd probably be easier without that colorful maned pegasus bothering you.
Chapters (10)