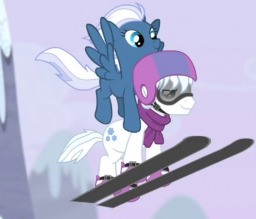 [Second Person Perspective]
Thanks to the efforts of six ponies, Starlight Glimmer's reign has ended. All the cutie marks have been restored, save for the ones of your new friends. There's not much time before she makes it to the caves where you'll be unable to track her down.
During the final stretch of the chase, you're tasked with lifting Double Diamond up to the top of the hill to drop snow over the entrance to the cave. As you ascend, emotions swirl within as you realize just how fast you're flying and just how warm the stallion you're holding is.
Chapters (1)