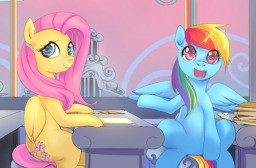 Source
[Second person narrative]
[You + Rainbow Dash/Fluttershy]
You're a fast-flying, teenage pegasus colt with dreams of glory! Having just transferred to a new boarding school in Cloudsdale, you're looking forward to meeting new friends, joining the wingball team, and finally hanging out with fellow pegasi. This year's going to be so awesome!
Except you're the only pegasus around without a cutie mark. And everyone already seems to think you're a total loser, before they've even met you. And your only friend can hardly stand up for herself, much less you. And you're convinced a certain rainbow-maned mare is out to ruin your life. Yep, awesome.
This is the story of your high school days at Wingbury Academy.
Chapters (14)