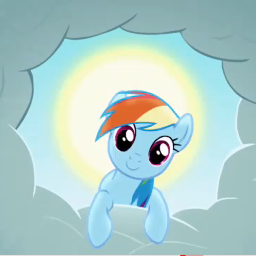 Source
Warning. This story is OLD. Like, so old that it's from the time when you could have contradicting story tags old. Only reason I keep it up is for sentiment. Keep in mind that, in my mind at least, it is very bad and I would not recommend reading it. Read at own risk or check out some of my more recent projects.
---
You have always been a different pegasus since the accident seven years ago. Your view on the world changed. Being the son of an extremely smart and famous Scientist father and a rich fashion designer mother you often find yourself alone. You love to explore the forest, the mountains, as much as you can. You always push yourself to go farther and higher, where nopony has gone before. Your adventures were always your private escape from the world.
Until one day when your parents get you a job with the local weather patrol just before leaving on their respective trips. Your summer is about to get more interesting...
Told through 2nd person and 3rd person naratives.
Chapters (12)