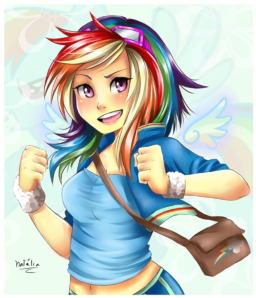 Source
Equestria is such an awesome place. Kind natives and friendly attitudes make it hard to ever consider leaving. And an incredibly awesome cyan pegasus with a rainbow mane adds a bit of incentive to stay, too.
But, as a human who somehow wound up in Equestria (As a pony, no less!), you knew you'd have to leave some time.
After returning to the realm of humans, you plan to return to your mundane life as an average person in college. That is, until the previously mentioned cyan pegasus appears to have come through the portal as well. And to top it off, she's been transformed into a human.
Just how will this all work out? Stay tuned to find out!
*************************
Also, constructive criticism is encouraged. This is my first writing in a long time, so I'm a bit rusty.
Thanks to Nataliadsw for letting me use this pic.
Chapters (6)