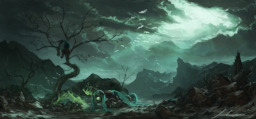 Source
This story is a sequel to Kafka-esque
---
One by one, their voices died.
Only I remain.
And she is coming...
As their numbers dwindled, their intelligence grew, until the last of their kind achieved the unthinkable: self-awareness.
Now, faced with the inevitable end of their species, the last changeling must battle a creature that never before posed a threat to their kind: their Queen.
Chapters (1)