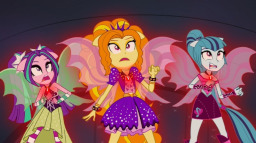 Since their banishment to this world centuries ago, Adagio, Aria and Sonata have been traveling, looking for a way to go back to Equestria.
One day after using their powers, they get accused of witchcraft. Chased by the authorities and the population, they must escape to avoid a horrible death.
(Takes place a few centuries before Rainbow Rocks.)
---
This story has been approved by The Goodfic Bin.
Chapters (6)