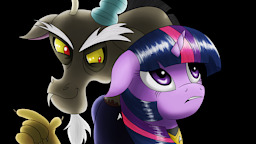 Source
This story is a sequel to The Assembled Letters of Twilight Sparkle, Protégé of Emperor Discord
---
After getting a taste of Friendship and questioning her allegiance to Discord, Twilight Sparkle chose instead to accept the will of Chaos and remain a student of the Emperor. Now, she has been charged to return to Ponyville and plant Seeds of Discord around the Tree of Harmony, but there are more things than broken friendships awaiting her arrival in Ponyville.
---
A note on the [Dark] tag: This fic is not grimdark.
It is however, an adventure story with high stakes, and themes that may touch on more serious matters, such as brainwashing or mental/emotional abuse. There is also some brief moments of violence and intense danger that, while not excessive, may be troubling to some. This tag was actually something recommended by one reader after Discord's psychological games with Twilight in the previous story, and I think it's time to add it. Link to reddit discussion where I made the decision, slight spoilers for Chapter 6.
Please don't let it turn you off from the story, just consider it fair warning that some parts may be slightly disturbing to more sensitive readers.
Chapters (17)