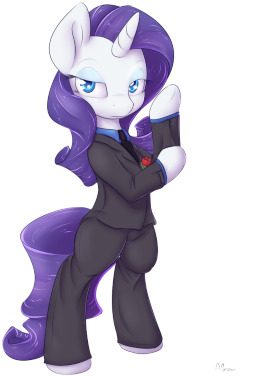 Source
I look at myself in the mirror. My mane and my tail are much longer than what is usual for wearing a tuxedo. The fashion show is many hours away from now, and yet as I stare into the eyes of my reflection, I feel that the mirror's image lies to me. The pony in the mirror is not Rarity. I am going to fix that.
Covered in a light blue glow, a pair of scissors floats aside my head. I pull a strand of my mane between the blades of the scissors, and with a snip, the scissors close as a purple strand of hair falls to the floor. I take a deep breath, and continue cutting my mane. I finish, and as I look at the stallion cut I gave to my mane, I can't help but think: It looks so nice on me. And why why wouldn't it?
That is what I am, after all.
---
Rated Teen for sexual themes.
Chapters (3)