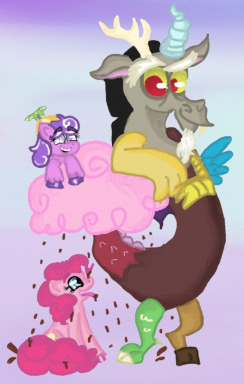 Source
Everyone gets lonely, right? If Pinkie Pie can, she figures Discord must, too. After all, how much fun can a statue possibly have?
And even he deserves some company. Who knows, maybe he'll even appreciate it!
Eventual Discopie, leads to an AU where Pinkie reforms Discord instead of Flutters.
New cover! Finally learning how to work that art tablet!
Raised the rating just in case, and took off comedy tag, since this has funny moments, but isn't a comedy, per se.
Chapters (17)