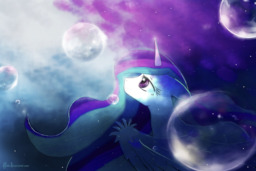 Source
Destiny moves us all, and for Celestia, it moved her down a single path: to bring order to the world. It was this purpose for existing that had been made known to her from the moment of her creation, and when she descended to Equestria, it was that mission which defined her entire being. So when faced with an offer from her homeland to exchange her free will for a thousand years of peace and order, the choice should have been easy.
Unfortunately, falling in love with a spirit of chaos was never part of the plan.
Cover art: "Do you believe in dreams?" by Flutti on Deviantart.
Later chapters will contain spoilers for the Reflections comic arc.
Chapters (8)