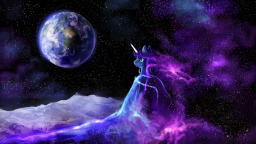 Source
Shortly after the defeat of Nightmare Moon, Celestia comes to Luna with a question, one that has haunted her for a thousand years. She wants a full and honest answer, no matter how hard the words are to hear.
Of course, sometimes words just aren't enough. Some things in life can only be seen.
Cover art: Forgive me by ElkaArt on DeviantArt. Used with permission.
Conceptualized pre-season 4.
Chapters (4)