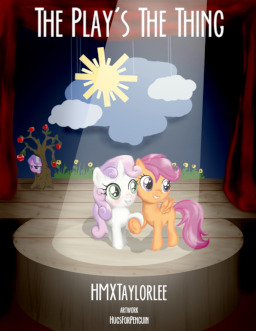 [img]http://i.imgur.com/6MrWqNZ.png[/img]
Accepted into Twilight's Library!
Sweetie Belle is having a hard time coming to terms with telling her best friend and fellow Crusader Scootaloo that she likes her... as more than a friend, that is.
Following her directorial debut, Cheerilee sees fit to give Sweetie Belle the reigns in directing the next school play - which just happens to be "Harmony's Flowers", a romantic tale about the relationship between star-crossed lovers, a unicorn and a pegasus during the tumultuous period surrounding the passing of a law allowing marriages between the recently unified races of ponies.
With her feelings growing stronger, Sweetie Belle aims to use the play as a vehicle for telling Scootaloo her true feelings - what could possibly go wrong?
Cover art drawn for me by my wonderful sister!
Story chosen by TheParadoxPony, who cast the nailbiting final vote from my blog.
Side story "Playing Second Fiddle" here!
Comments and criticisms are appreciated. If there's something you don't like about the story, please let me know so I can avoid making those mistakes in the future.
Chapters (4)