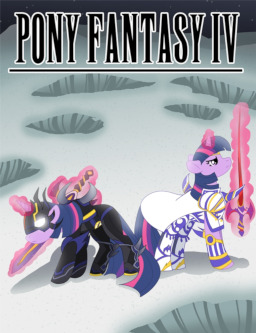 Twilight Sparkle, Captain of the Red Wings of Colton, has misgivings after her last mission to Maresidia. Voicing her misgivings, however, causes her to lose her position. Little does she know that her demotion is just the beginning of a new adventure, one which will encompass her world... and beyond.
An attempting at retelling the story of Final Fantasy IV, with ponies. NOT, however, a glorified walkthrough. Elements of the story WILL be changed to better fit the characters.
New title card courtesy of Aakashi on DeviantART.
Chapters (15)