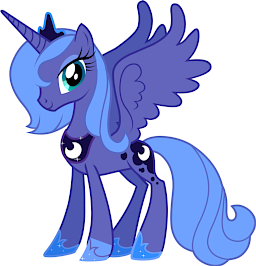 This story is a sequel to Nightmares Are Tragic
---
After the final fight against Nightmare Moon, Princess Luna has regained her identity and sanity. But she is still weak, scarred by her suffering, and -- save for her sister -- mostly alone in a strange new Equestria, a world which in some ways resembles the old Age of Wonders, and in other ways is very different.
Can she recover her strength, make friends, and resume her rightful role as Celestia's co-ruler? And can she do this fast enough to save the kingdom?
Now with its own TVTropes page!
For the Shadows which claimed her before are still extant, and stretching their malign powers forth to consume the light of Celestia's bright new world ...
Chapters (15)