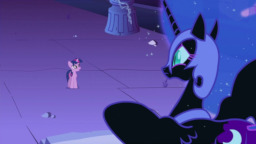 Nightmare Moon spends a thousand years banished to the Moon, fighting herself and the Shadows both within and without. She watches civilization rise and spread, a quarter-million miles away.
Can she reclaim her power? Can she overcome the six champions her sister has sent to defeat her?
Why do three of the champions look terribly familiar to the renegade Moon Princess? Why does the sight of one, in particular, break her heart?
And why, as the battle continues, does she increasingly hope that she does not win?
This is an expanded version of the two-part Series Opener. From Nightmare Moon's point of view.
Now with its own TVTropes page!
If you want to find out what the Great and Powerful Trixie was doing in Manehattan, and what happened in some other parts of Equestria during the Longest Night, read An Extended Performance. The direct sequel, however, is All the Way Back.
Chapters (16)