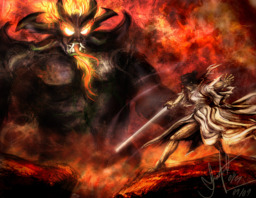 The warrior Samurai Jack is locked in a death battle with his people's mortal enemy, the dark wizard Aku. However, before Jack can vanquish this scourge once and for all, Aku tears the fabric of reality and sends Jack into the void. However, instead of going into the future as Aku had planned, Jack crosses into a different dimension entirely, and ends up in a peaceful world inhabited by strange horse-like creatures.
When the evil Jack had fought to destroy follows him to this new world and threatens the peace of this tranquil society, Jack must once again battle the forces of darkness to end the threat of Aku, and get back to his home, where his own desperate people, and the villainous Aku, await.
---
Officially on hiatus until the strike of further creative impulse. Apologies!
Chapters (3)