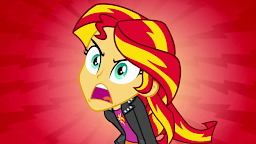 Hunger grips at us all... But have you ever been so hungry for one single thing that you were willing to break the laws of reality to get what you wanted? Sunset Shimmer sure did. That's why she embarked on this crazed mission to risk life and limb for her true love: Steak. And, if she happens to find a leather jacket to bring home? That'll just be a bonus.
The suspense! The thrills! The goofy-comedy! All while keeping a horrible secret under it all! What will happen? Find out!
Spin-off of: "Know Your Mare" and "Shimmer, My Big Bad Sis."
Chapters (3)