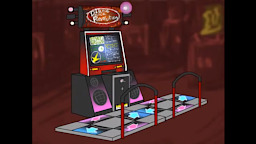 A new restaurant has opened Ponyville with one really interesting attraction. And as we all know, there is one language friends, foes,and all races speak: Dance. Watch as all the ponies and characters you know and love show off their dancing skills (or lack of) in front of everypony!
One-shot.
Featuring: Princess Luna, Celestia, Cadance, Shining Armor, Braeburn, Little Strongheart, Vinyl Scratch, Octavia, Cutie Mark Crusaders, Spitfire, Soarin'.
In combination of "The Birds and the Changelings" and "Know Your Mare"
Chapters (2)