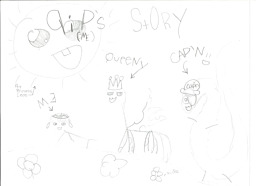 A fan fiction written by a young colt? That's not news. Everyone writes fan fictions. It's no big deal. Really. No one is interested at all... Where did he put it? Not that we want to see it or anything...
Come on. It's a parent's job to be curious about what their children are doing. It's also in their nature to snoop, pry, and break the laws of anything to find out WHO THEY WROTE IT ABOUT!
A double-sided story. One half tells the story of finding a fan fiction written by a starting author. The other is -well- the story itself.
Art Done by Flinx. (The younger assistant.) As a rendition of Pip drawing.
Chapters (2)