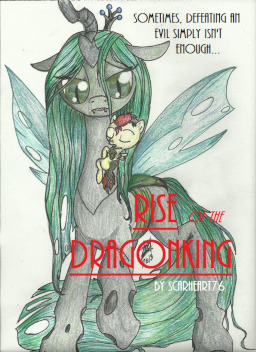 Source
A Special Thanks to Magic Man for his input and suggestions for this trilogy. Some of the chapters and characters would not have been possible without him. Thanks, buddy!
Much of Equestria's past is shrouded in mystery. Even the truths known in general are surrounded by a certain mystique. None know of a past war, forgotten by even the co-rulers of Equestria, the Princesses Celestia and Luna. One such monster from the past rises, proving that even the most powerful Alicorns can have their seeming aura of invincibility shattered. In the wake of this battle, a certain changeling queen is given a dubious gift.
Motherhood.
His name is Silent Wing. This is his story.
Prince of the Changelings Trilogy
Book 1 "Rise of the Dragonking" (complete)
Book 2 "The Chimera" (complete)
Book 3 "Nightmares of Oblivion" (started)
MLP:FiM is owned by Hasbro.
MLP:FiM was created by Lauren Faust.
OCs are mine unless specified.
Chapters (24)