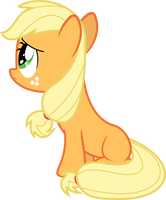 Source
My own personal headcanon for the story behind the death of Applejack's parents.
Applejack has seen a great many things in her life. Some good, some not so good. Fortunately she has her faithful group of friends to help her out when things get rough. But things weren't always that way. There is a day in her past that continually haunts her, and back then, she didn't yet have the magic of friendship to get her through it.
This one shot details that one night, the night that changed everything.
Chapters (2)