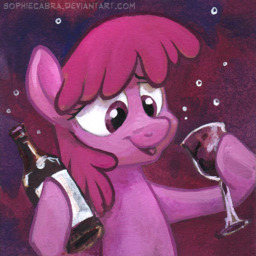 Source
Rated [Teen] for alcohol use (I do not condone excessive consumption of alcohol)
Some ponies are ashamed of their alcohol habit, but Berry Punch flaunts hers with pride. A renowned connoisseur of the devil's brew, she finds herself with a lot of extra bottles around. With the (accidental) help of her friend Cinnamon Swirl, she finds a better use for all that glass while tapping into her artistic side.
A collaborative effort with Garbo802. Check out his work because he's a great writer.
Don't forget to rate!
Chapters (1)