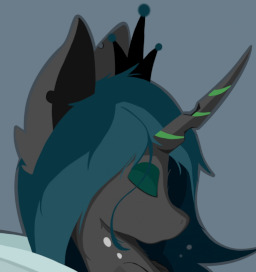 Source
It was that moment, that accursed moment when the glass shattered for her and everything went straight to Tartarus. The moment she took it and stood up. That damned moment that doomed her into the life of misery. If only she could stop it. If only she had a moment to tell her that time.
"I don't want to be…"
Set in an alternate universe where the defeated Chrysalis took Starlight Glimmer's hoof.
Regretting the path she had taken, Chrysalis sets in motion a plan to undo a key point in her past.
Will her attempt succeed? Or is there yet another path to choose?
A contest entry to FanOfMostEverything's delightful ponydox contest: https://www.fimfiction.net/blog/915967/contest-a-most-delightful-ponidox
Cover artist:groomlake here's the full
Edit:FEATURED AS OF 18/10! WOOOHOOO!!!
Edit2:I would like to thank Scarheart and kildeez for their editing and their honest emotional support they gave me. Plus my friend Kyle whos last name will not be disclosed as he is only on facebook afaik. His emotional support was invaluable during my writing hiatus.
Chapters (1)