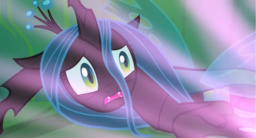 Thorax seeks a new future for the changelings. There is one thing he doesn't understand however.
Every new era begins with the death of the last one.
Author's Notes: Hey guys long time no see. This is not a parody fic, nor do I have a gripe on how Chrysalis was treated in this episode as I expected most of this. I do however at times get some ideas that fit the canon episodes. Rarely so ((like my "Precious Soul of Mine" fanfic)) but it happens. This story is marked completed but I may or may not post something more to it.
Chapters (1)