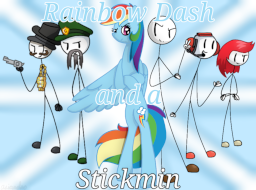 Rainbow dash was hanging out with the girls when she suddenly blacked out. She woke up to find that she was in the middle of nowhere with a building nearby. She ran over to it to find a stick figure standing next to it, holding a bag. She walked up to them, asked what they were doing, and teamed up. Little did Dash know this action would lead to a long adventure that could change her life forever.
---
Based on the game series "the Henry stickmin collection," make sure to check it out first if you don't want any spoilers on what happens in the game.
I'm making this a choose your adventure fic just like the game it's based on with links in each chapter to other chapters when an ending splits off of one another, like when the endings split from the intros of the first few games in the series, so I hope you enjoy what is up so far!

Thanks so much to Asiandra for editing the current parts that are up and making the cover art.
---
warning: will have some scary and sad elements in some future endings.
Chapters (11)