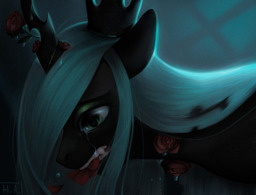 Source
This story is a sequel to A Love So Much Closer
---
Anon and Chrysalis have been pushed to their limits on the run from the law. They now find themselves in a cave on the outskirts of The Badlands, knowing full well their time may be coming to a close.
Though, with Chrysalis finally understanding the true meaning to giving love to another, perhaps there is hope for them yet?
The truth shall set you free.
---
Cover art is by an unknown Japanese artist. Full credits to them for the cover art used for this story.
Now edited by my good friend Soaring.
Chapters (1)