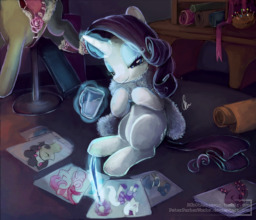 You're not happy with the progress you've made with your art. Despite how hard you keep pushing, despite how much you keep banging your head against the wall, you feel as if you're going no where. That's why you've decided to seek aid and companionship with a close friend.
There is an ebb and flow to art, and you're slowly starting to realize it.
---
Cover art by r0b0tassassain.
Special thanks to those who gave me inspiration and kind words on my blog featuring the theme of this story here.
Chapters (1)