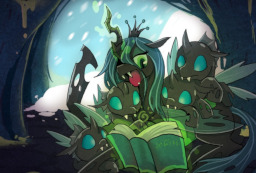 Source
Chrysalis is miserable. The swarm is scattered, her hopes are dashed by defeat, and her royal rump is freezing off in these mountains.
The only thing that could make this worse is a baby drone who wants a bedtime story.
Part of the Hellpiercer 'verse, but knowledge of that story is not required.
---
Dramatic reading by Sojourner.
Cover art by LittleDarkDragon.
Chapters (1)