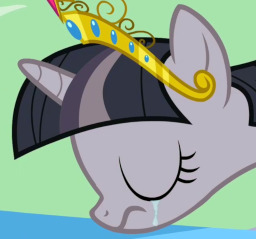 Five thousand years have come and gone since Twilight took the crown and became an alicorn. The centuries have not been kind to her; they took away her friends, one by one, till only she is left, an immortal ruling an eternal kingdom.
Now, even her memories are fading, her recollections slipping as she struggles to recall the only happy days in her life, the Pinkie Pie parties that ended too soon, the sound of a certain pegasus's voice.
Twilight Sparkle wants them back. And there is one spirit she thinks might be able to help her.
Chapters (6)