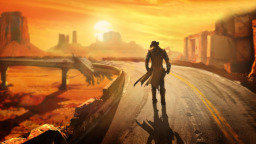 *REWRITE IN PROGRESS*
(Takes place after Season 2.)
The Courier was given one simple job: to deliver the package known as the Platinum Chip to the ruler of New Vegas and get paid in the end like all of his jobs. Instead of what he was hoping for, he goes on a wild journey after being shot in the head two times to help decide the fate of New Vegas and the entire Mojave Wasteland. But how, how can one single courier be able to help decide the entire fate of the new world?
William "Bill" Davis, also known as the Courier, has been through a lot since he came to the Mojave. He had been shot in the head two times and lived to tell about it. He crawled out of the Sierra Madre, looking like shit, but good to be alive. He stopped a tribal conflict in Zion by helping the one known as the Burned Man lead his tribe to victory. He also discovered many wonders of old world science and history at Big MT. All the while, he continued helping folks around the Mojave while being a menace to those who would seek to harm the weak.
Still confused of why he was given this job, he and his traveling companions get ready to set off for Hoover Dam to help the NCR fight the second battle when he gets a message, a message that will help explain the whole truth of why he was given that job to deliver the Platinum Chip. The location is all pinned out for him; the path to the ruins of the Divide. If he is going to find out the truth of all of this, he must walk this journey, alone. Or will he?
Twilight Sparkle, the Ponyville librarian, Princess Celestia's prized pupil, and the Element of Magic ends up into the hellhole of the Mojave Wasteland after a freak accident when investigating a strange crashed object in the Everfree Forest. Arriving there, she meets the Courier, the so called "savior of the Mojave Wasteland" and "hero of the NCR". Together, they will have to work together if Twilight wishes to get back home alive. But as they travel further on their journey, they will not only face the dangers at the Divide, but a dark past that has burdened Bill for years.
Chapters (4)