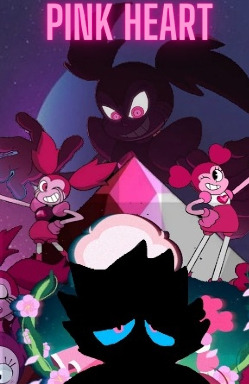 Source
James Hortan is a boy who loves cartoons, and anything animation related.
He, like any normal boy his age, is a student in high school, and, like any normal boy his age, has a few friends. But, like many people, he has problems that he doesn't want to admit to having.
One day, after watching the Steven Universe movie that came out in 2019, he decides to go out and buy something related to it, and runs into someone referred to as "The Merchant." He buys a cheap, but well made replica of Spinel's gem.
But then, he suddenly falls unconscious, and wakes up in an anthro Equestria as the pink jester gem herself.
Beginning takes place at the start of Season 5
---
Cover Image edited by me
Image in cover found on Google, silhouette drawn by me, as well.
Also, yeah, I got into Steven Universe late, what of it?
Also Also, I feel the need to mention this, but I haven't actually watched all of the actual show, and I don't really plan on doing so. The quality of the writing was starting to take a nosedive.
This story is inspired by "Guess This Is Happening" by Silver Butcher, and I guess "Laughter" by TheLegendaryBillCipher. They're pretty good, so if you get the chance, go read them!
Chapters (3)