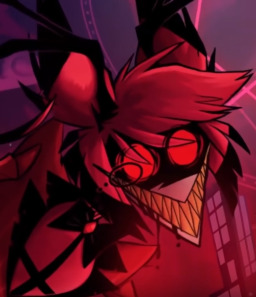 (Takes place in an alternate version of EQG)
Sunset has had enough. She has to get the Element of Magic. But, she can't risk getting recognized. So, she puts together a ritual to summon a certain demon to help her...
A certain deer demon...
---
Inspired by A Displaced Radio Demon by R-E-X
Now, onto the Content Warnings....
Profanity: Because I can't write anything without saying "fuck" or "shit."
Violence: Pretty self-explanatory, tbh
Comedy: Because my writing is so bad, it might as well be considered a comedy
Dark: I like dark humor, what's the problem?
Drama: It has Sunset before she was reformed, what do you expect?
Crossover: It'll have a few characters from Hazbin Hotel, that's all I'm saying.
Alt. Universe: because yes
---
Cover image is a screencap from Hazbin Hotel's pilot.
---
As you can see, I am trying something different.
I know, I know, "It's only your third story," I don't care, I've been wanting to try a crossover-fic since I joined, and I saw this as an opportunity.
Since Hazbin Hotel only has a pilot, and I absolutely refuse to use Twitter, I am going to go off of a lot of personal and fandom-made headcannons I thought were cool.
Anyway, read the damn story, and let me know what you think!
Chapters (6)