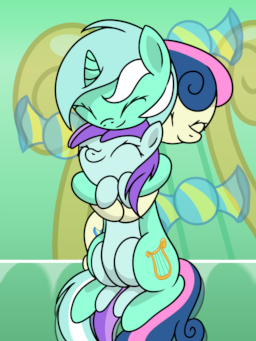 Source
Liza Doolots was an ordinary filly. Ordinary, but also content with her way of life, her friends and the things she loved. And there were many things that Liza Doolots loved, but the things she loved most were candies and the candy store of her parents Lyra Heartstrings and Bon Bon.
One day, though, Liza's life takes an exciting, then terrifying, turn. A candy factory rises in Ponyville, a product of the ever increasing industrialism in Equestria. Its owner, a charming and joyful stallion called Sweet Treat, promises a new age of candy, but the presence of the factory also means that the age of Ponyville's candy store comes to an end.
Cheap candies, air pollution, greed for money and five golden tickets, but all that Liza can see is how the candy store of her parents dwindles and how her life changes against her will.
The candy factory must be stopped..... and Liza and her parents are determined to do everything to save their little candy business from becoming a victim of gentrification.
A musical story and ponified reimagination of the movie "Willy Wonka and the Chocolate Factory", with a darker and more serious take on the subject of factories, industrialism and gentrification.
This story is a collaborative project between DinkyUniverse, who provided the idea, and me, who writes the story.
The cover art was drawn by DinkyUniverse.
Work on this story happens on Saturdays and new chapters get released once they are ready.
Chapters (2)