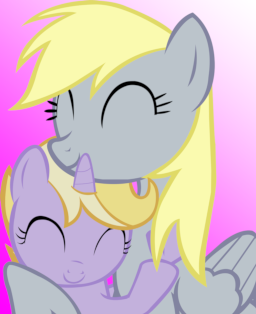 Source
Nothing is more powerful than a mothers love. Primal instinct to care for ones offspring is one of the most common sights throughout nature. As is such, Ditzy Doo loves her daughter Dinky more than anything else in Equestria. To see them together is to see the true definition of family. But everypony has secrets. Dinky will soon reach the age of curiosity, and there is one question her mother can never answer honestly: Who is her father?
Ditzy can never tell her the truth. Not to deliberately withhold the information and leave her in the dark, but simply to protect her from the horrors of the past.
My first attempt at a one-shot, written and edited within a 1 hour time limit.
Important Note:
The subject matter of this story is Rape and the after effects resulting from it.
Despite this grim subject, it contains no scenes of a sexual nature.
Chapters (1)