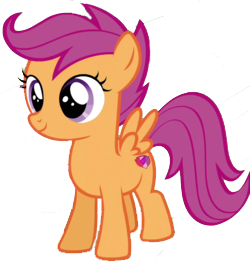 Source
(An early birthday present for Madeline Peters. Proofread and edited by deadpansnarker.)
Scootaloo hasn't fully made her peace with not being able to fly, not just yet. A part of her is still convinced that she can fly if she tries hard enough, all she has to do is find a way to get herself off the ground.
The problem is, she's exhausted all conventional methods. And the only method she can think of is one that her aunts think is too dangerous, launching herself and her scooter into the air at high speed!
But Scootaloo isn't one to take no for an answer! She'll fly if it's the last thing she does! But will her effort be successful? Will she survive the fall if it doesn't? And how will those closest to her react to learning about such a dangerous display?
Chapters (1)