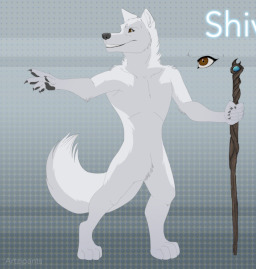 Shiva wasn't a freedom fighter or a revolutionary. She was just a normal wolf-dog, happily living her life as a beloved pet. Then, forces beyond her threw her into a strange new world with a strange new body.
With cruel talking ponies out to get her.
Alone, confused, and with a magic she doesn't understand as her only defense, Shiva must wage a one-wolf battle to escape a land apparently out to enslave her, all while the forces that protect this new nation do all they can to catch her.
How far will these ponies push the wolf? And how far is she willing to go to maintain her freedom in a world that seems desperate to make her a beaten and broken slave?
Inspired by Misunderstandings by The Rogue Wolf and Drawn with the Night by Dan_S Comments.
Both a character experiment involving my OC Shiva, and a plot experiment that borrows the plot beats from "Of Scales and Fur - Shiva," my (likely horrible) attempt at an upcoming original novel. Feedback is greatly appreciated.
Shout out to Ang Auronheart for the cover art.
Chapters (11)