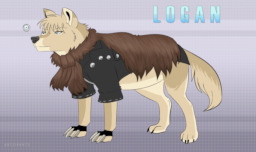 After an experiment in magic goes awry, Princess Celestia accidentally brings an abused young wolf from an alternate universe over into her world. Now, Twilight and her friends must contend with a defiant but war-torn young wolf, desperate to return to the pack he was taken from, and convinced that these kind-seeming ponies have darker plans in store for him.
With the simplest of misunderstandings having disasterous consequences and no one truly in the right, can this wolf find common ground with the ponies? Or is this cross-dimensional friendship challenge simply too much for Twilight and her friends to handle?
A character experiment with my original character; Logan Wolfe.
Special thanks and shout out to BronyWriter's Non-Brony Universe, which inspired me to write this. Also, shout out and a huge thanks to Ang Auronheart; who drew the cover art of Logan.
Chapters (20)