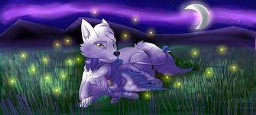 Source
Inspired by the Friendship is Awesome Thread 'Survival of Your Pony Race' by Silver Dragon Blade Wing, and a character experiment with my OC, Star Wing.
Being the Daughter of Princess Luna is a difficult thing: ponies don't trust you or your mother, and respect can be hard to come by. But Star Wing is determined to beat the odds and become a hero.
When an engimatic magic wolf named Shiva and her equally strange pack become known to the lands of Equestria, Star Wing believes she's finally found her chance for glory. But when a conspiracy threatens to rip apart Star's family, she will discover that not all is as it seems, and that fear is the greatest enemy of all.
Huge thanks to Silver Dragon Blade Wing for coming up with this idea and helping me as a co-writer and editor.
Also, shout out to Twilight Wolf91 for the incredible cover art.
Chapters (22)