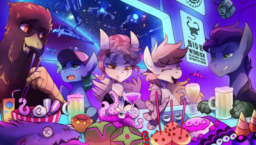 In the far future of Equestria's history, ponies and the other species of their world have ventured out to live in all the wondrous corners of their sparkling galaxy. Now, the spiral arms hold both the borders of six great civilisations and vast unclaimed regions of glittering stars.
Starships of all shapes, designs, and sizes now carry their crews as they seek adventure, fame, fortune, curiosity, or for some...to discover the secrets of the galaxy's turbulent past. But to many others, it's simply their day-to-day job to haul cargo and make a life in the space between worlds. To be one of the thousands who keep the galaxy running.
To be one like the cargo ship Claudia.
The crew of the small vessel all came from different places, desiring different things. Whether it was their wish to do this to prove themselves, their need for the money to save a loved one, their ambition to make a name across the stars, or having to make do with a path in life they hadn't expected to find their dream. But no matter their mixed origins, no matter their unassuming nature, they have one truth of the galaxy to discover.
That the black leaves few without trials if they wish to find a home within its both beautiful and foreboding expanse.
Chapters (12)