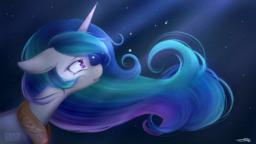 Source
"Celestia, I - don't understand. What's going on?" Twilight asked, voice shaking with anticipation of the answer.

Celestia opened her eyes, irises flicking back and forth between raging orange and peaceful violet. "I have fallen," she replied.
Celestia's heart has been emptier still, even with Luna returning, with Twilight rising to princess-hood. A small voice inside of herself had been whispering sweet nothings to her for centuries; now, however, she chose to listen. It was better than nothing.
She realised too late she had made the wrong decision.
---
Cover provided by MrsRemi on DeviantArt.
Featured on 11/07/2019! I'm so happy! Could've been any story but instead it was one of mine! Thank you so much!
Chapters (1)