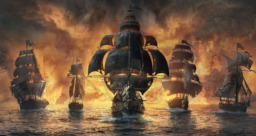 Made some edits do to some small changes
After an out of control storm from the Everfree Forest does serious damage to Ponyville, the townsfolk are given an all expenses paid cruise while the town is repaired. The cruise is attacked by pirates who by mistake unknowingly take the CMC with a small number of other foals, the student six and some School of Friendship students. The result is the Ponies going on an adventure in the famous Sea of Legends, an area known for great tales of riches, and of great dangers.
Takes place sometime after the School of Friendship was opened the second time.
Probably should have add this a long time ago but this has a side story called Lore of the Sea of Legends
Chapters (25)