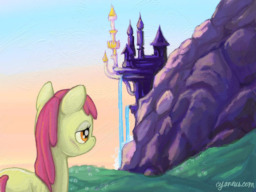 Following the assassination of Princess Celestia, the Long Night withered the once bountiful Apple Harvests of the Apple family. In the years since, they have been reduced to dumpster diving and street life. Applebloom, unwilling to continue in such a state, violates her elder sister's wishes in order to find help from Applejack's friends, who surely must be better off.
Unfortunately, Applebloom's journey to Canterlot shows her the true fates of the bearers of the Elements of Harmony, who are as unable to help Applebloom as they are to help themselves. Applebloom's desperation grows with each reunion. In the end, she must turn to powers greater than begging to save her own future and those of many others.
Illustrations by the very talented Cyaneus!
Chapters (11)