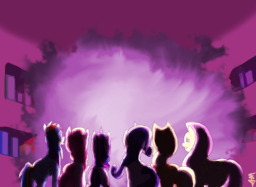 Source
Twilight Sparkle wakes to a normal day in Ponyville, a bright sunny sky greeting her. The only pony who doesn't seem able to enjoy it is Rainbow Dash, who is dodging weather duty and begs Twilight to hide her. After being invited to stay at the library for the day, Rainbow discovers Twilight is working on a new spell, a spell that could take any group of ponies anywhere.
Twilight soon finds herself pressured into taking her friends on vacation, somewhere far away from Ponyville. When the group of six arrives in a wooded clearing for a picnic, and feel themselves grow incredibly tired, Twilight opts to cut the vacation short only to realize she can't open the portal back. Stuck in this unknown place the friends discover a strange line in the ground cutting the forest in half, and then an even stranger creature piloting a huge machine that towers over them.
When the creature nearly makes off with Applejack, managing to dislocate her leg, Twilight tries to figure out how the group could possibly get home, and what was preventing them from using their gifts to open the portal. She is driven to drastic measures when another of the creatures finds the clearing they arrived in, and finds out getting it to help her may be her only hope to lead her friends to safety, and discover the truth behind this other world.
Chapters (13)