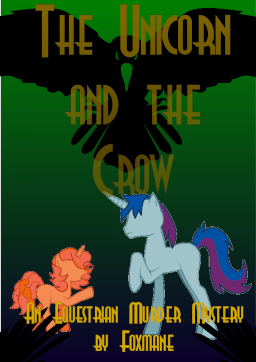 Madeleine Crumpet: A world-trotting jeweler with an eye for gems… and pleasant company. Of the stallion persuasion.
Rubyk of Trotheim: A cold noble of the forbidden Equestrian North.
What cause could bring these two unlikely figures together?
"My dear, you will not believe what happened to me on my last islands trip. I can scarcely believe it myself! But a girl doesn't often get to help out in an affair like that. It was just like a Shadow Spade novel! Although that pony – Mister Rubyk – was about as far from the grand dame of mystery as you can get. I suppose it takes all sorts."
"Oh, Mister Rubyk? Let me tell you dear, stallions don't come like him very often. There's just something about him – other than being the tallest in the room by a country mile. And when he smiles… brrr! Don't believe me? Well, then just let me tell you what he did when we found the body..."
[Update August 5, 2017: To address some of the legitimate reader concerns regarding the length of the several sections, in-line chapter headings within the story sections themselves have been added. A Google Docs version containing links to individual chapter headings is forthcoming. The author owes a sincere thanks to those who have reviewed this story to-date and hopes that this change will help to address some of the difficulties that he made for himself in posting this novel as he did.]
Chapters (4)