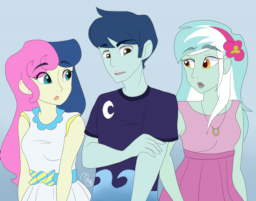 Tidal Blue, son to a famous weather caster and an Olympic swimming champion, has been dealing with bullies at his old school. His aunt, Principal Celestia, decides to have him attend CHS so that he can turn his life around and make some friends for once. Relying on two neighboring students, Lyra and Bonbon, they hope that he can feel much better at CHS than his old school, before the damage becomes permanent.
---
Cover art done by MaddyMoiselle
Part of the PomE universe. All OCs belong to their respectful creators.
This is a big rewrite of the old version.
Chapters (10)