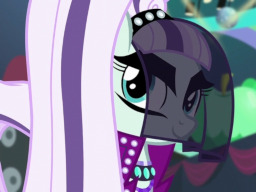 Countess Coloratura, or as few would know her as Rara, wants to reboot her music career. And her new manager, Sapphire Shores, has an idea that might just work.
Rick Barns, a guy who couldn't get his music career off the ground in America, has been trying to get by in Tennessee. When his new pony friend, Applejack, tells him about a new talent search to tour with Countess Coloratura, he gives it one last shot to fulfill his dreams.
But when Rick wins the talent show, he and Rara realize that they have to be a "couple" to make this happen. Looks like they forgot to read the fine print. Now one question remains: Can they make this work while trying to understand each other.
---
An idea someone brought up months ago that I decided to look into and work on. Tags will be added as the story goes on.
Chapters (11)