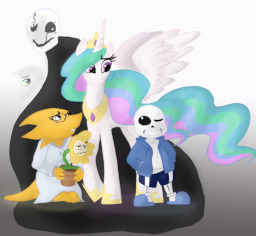 Source
Sans should be dead, he only has one HP after all, he felt the knife hit him, he saw himself turning to dust. Then why is he not dead?
An Undertale and My Little Pony crossover. Of which I own neither, Toby Fox owns Undertale and My Little Pony belongs to Hasbro. Please enjoy
Featured on 4/8/2017! Again featured on 5/5/2017! Again on 4/16/2018. Also on popular stories! Thank you so much!!!
100 likes! Thank you!!!!!! 200?!?!? 5/14/2017 OMG! Thank you!!! Featured August 27 2017. :D
New coverart provided by Supersheep64. Everyone, please give them a huge round of applause!
Chapters (19)