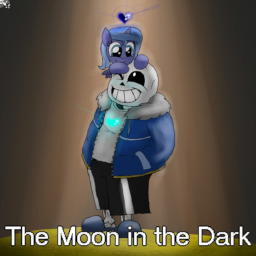 Source
MLP/Undertale crossover.
Not a PWNY-verse story.
---
Long ago, the Monsters and Humans fought a great war. The Monsters lost, and were sealed in the Underground. It would take the power of seven human souls to break the barrier that kept them imprisoned. They only had six. And so the Monsters waited and hoped, praying that another human would find their way to the Underground. Some thought the seventh soul would give their King the strength to break the barrier. Some dreamed of a human who would be their friend, and save them all...or had nightmares of one who would bring back the war.
...but nobody came.
...but somepony did.
Eons after the war, with no way to tell how much time had passed above, a tiny blue filly with wings and horn fell into the underground, calling for her Mama. None knew the poor creature's nature or origins...but her soul was powerful with magic, even more so than a human soul.
None can know what will come...of this little 'Woona'.
---
Cover art by Sanyo21
Chapters (69)